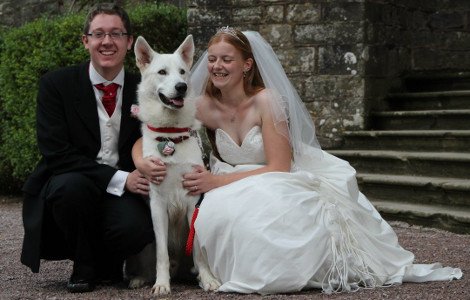 I am Lindsey, my husband is Steve and we live in a small village in South Wiltshire called Durrington, which is just five minutes away from the famous Stonehenge. We are very lucky to have the Salisbury Plain practically on our doorstep which provides lots of fantastic and quiet walking spots for us and our pack. We moved here in 2008 after finishing University together, Steve had found a job in the area and we had a little apartment. A year later we moved into our house and I started pestering Steve to add a puppy to our family; he took a little convincing as he had never owned a dog before. we looked at a few different breeds but eventually I remembered a dog I had seen outside a supermarket one day whilst we were still in University...the owner had told me his dogs were 'Northern Inuits'. My research began in earnest!
We first visited our chosen breeders at Honiahaka Northern Inuits in May of 2009 and were made instantly welcome. A two hour visit somehow managed to turn into eight hours and set the trend of all visits to come! We met the Honiahaka pack and fell in love with all of the dogs and with the temperament and fantastic looks of the Northern Inuit. We came away that evening happy that we had not only chosen the right breed, but also the right breeder.
In September of 2009 we waited anxiously on the birth of Anya and Squims' puppies...we had put our name on the waiting list for what we thought we wanted which was a grey full masked boy. The puppies were on their way and soon after a photo was posted of a beautiful fat white puppy that looked just like a little polar bear. Immediately something clicked and I decided that puppy was coming home with me! Hours of annoying Tracey later and it was official, Kiba was ours!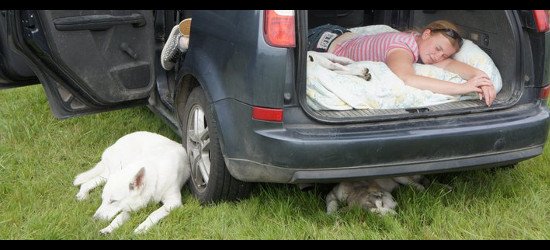 Five years, three more Northern Inuit puppies and a German Shepherd cross rehome later - after periods of happiness, devastation and loss which cannot be explained merely in a few words so instead I will leave it there - and my attention returned to watching the progress of the native Japanese breeds which I had always admired. After large amounts of research and contacting breeders of Shiba Inu, Shikoku Inu and Hokkaido Ken I decided that my next dog would be something a little different. In October of 2015 I contact Sophie of Kyuden Kitsune kennel in France and asked to be put on her waiting list to bring home a Hokkaido Ken puppy when the time was right and, in August of 2016, Sophie contacted me to say her beautiful white girl Katsura had given birth to three gorgeous white puppies. We were offered the only girl of the litter, and after a 24 hour debate involving much persuasion on my part, it was decided - Kirin was coming to live with us!
When we're not dog walking we enjoy camping weekends with our pack at Honiahaka shows, we may not always do that brilliantly in the ring but it's all good fun and the dogs have a blast running around the fields being as naughty as possible! I also attend a lot of events between April and September, helping Tracey of Honiahaka with her breed stand where Kiba 'works' as a meet and greet dog (getting cuddles and lying around all day, so much work). and Kirin comes along to be an ambassador for her breed over in the UK. My dogs are my life and I spend 24 hours a day with them, 7 days a week - except for the occasional excursion to see my family who don't appreciate the pack descending on their house or when I take a much needed weekend break away with friends to the spa!