The Honiahaka 'Dream Team'.
Hokkaido Ken
Winter 2023 update: Sadly our plans with Kirin didn't go ahead as expected and she will now be spayed and retired from our breeding program. Our next planned litter will be a repeat of Satsuki and Tsume which we hope will take place towards the end of 2023 with puppies due around February 2024. If you would like to be considered for this litter but have not yet filled in a Puppy Application Form or gotten in touch, please reach out as people who have filled in a form will be the first to be contacted with news about our future puppies. Please note we do not work on a 'first come, first served' basis and match our puppies with their homes based on temperament and lifestyle.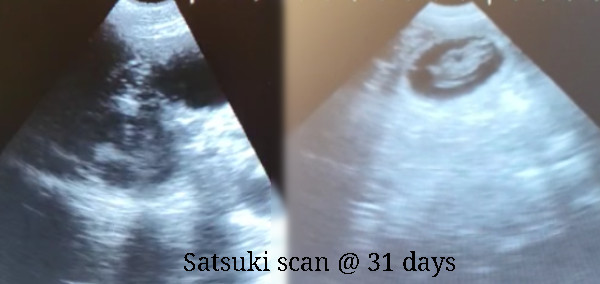 Hokkaido litters tend to be relatively small (2 - 4 puppies is normal), however we are always happy to talk to people who are interested in being owned by a Hokkaido Ken and will help you explore other avenues (such as importing) if the wait seems like a daunting task. We do tell people to expect to be disappointed as things do not always go to plan! If you are interested in joining our waiting list, please consider filling in the Puppy Application Form.
Keep an eye on our website and social media for Hokkaido Pupdates!
Our puppies will all be genetically screened for CEA as soon as they are old enough and certification will be provided to all new puppy owners. Our puppies will be registered with the Irish Kennel Club due to the breed not being currently recognised in the UK and all relevant paperwork will be provided. Puppies will leave with a large puppy pack with all of those essentials needed to help your puppy settle in and we will always be available to our puppy owners if they need help or advice throughout the lifetime of their dog. We encourage and expect our puppy owners to keep us up to date with photos and let us know how they are doing regularly, we also encourage new puppy owners to become involved in the breed preservation effort here in the UK, however we understand that many people are looking for a pet and companion first and foremost!
For those interested in being kept up to date with Kirin or Satsuki's progress and our future breeding plans, please follow us on Facebook or drop us an email. If you would like to come and meet the Hokkaido in person we attend multiple events across the South East of England or you can visit us in our home in South Wiltshire. Please contact us for more information.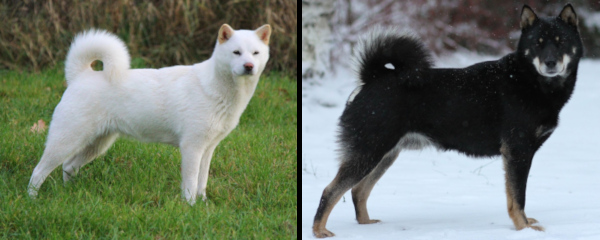 Our first ever litter of Hokkaido Ken puppies was born on Monday 18th February 2019! To follow their story over the first six weeks, please click the link above, after six weeks they got a little too demanding and I had no time to sit down and write their blog (I will do better next time!).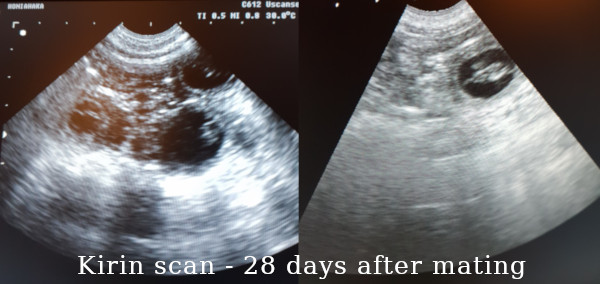 The Hokkaido Ken is still a rare breed in Europe (and worldwide), and anyone looking to add a puppy to their family is likely to have to wait some time for a litter to be born, however, for anyone looking for other breeders of Hokkaido Ken, we would happily recommend Kirin's breeder, Sophie of 'Kyuden Kitsune' kennel, who is located close to Nantes on the west coast of France.

Inuits
We are not expecting any Inuit or Wolfalike litters and would recommend that anyone interested in owning a wolfalike breed instead contact the breeder of our Inuits: Tracey of 'Honiahaka Inuits, Wolfalikes and American Wolfdogs' who is located in Essex.
Choosing the Right Breeder
Choosing your breeder is a very important part of puppy ownership, it not only affects the way your puppy is born and raised for the first eight weeks of their life but will reflect on your dog's whole lifetime. A breeder should be able to offer you their help and expertise for life. To many breeders, having puppies is not only to further the breed but each and every one of the babies they bring in to the world becomes a part of their family. When you take your puppy away at eight weeks old you are taking away one of their family members, a baby they have poured their heart, soul and energy into for those all-important first eight weeks of the puppy's tiny life. Be prepared to acquire not just a dog but a whole new family when you take on a puppy!
Always try to meet the breed before deciding whether to approach a breeder with a view to going on their waiting list. All the research in the world can often not be preparation enough for meeting the breed in the fur. We understand that this is not always easy or even possible, but if the option is available to you then it is invaluable experience in getting to know your chosen breed before taking that big step into ownership! If a breeder will not allow you to visit before the puppies are born, or sells puppies from anywhere other than their home this is a big red flag and often the telltale sign of a puppy farmer.
The best thing to do when you go to visit a breeder for the first time is take a list of questions! Good breeders will be happy to sit down and answer any questions you have about the breed or about their dogs. Be prepared with relevant information, the more research you have done beforehand, the more informed your questions will be - it is especially important to know what health tests are recommended for your chosen breed. Ask them about the bad parts of living with their breed; many breeders will be happy to tell you all about how amazing and brilliant their dogs are, but as a prospective puppy owner you need to be aware of any difficulties you might expect when raising a puppy.
Ask to see health certificates. If a breeder is advertising that their dogs are health tested ask to see the certificates for yourself - good breeders are proud of their results and will be more than happy to show you. If a breeder is not advertising that they are health testing their dogs then ask them why not!
If you are visiting a litter of puppies look at the conditions the pups are being raised in, ask what food they are being weaned on, check the condition of the mother as well as the breeder's other dogs (be aware that the mother of a litter will always lose weight and condition after giving birth). Puppies should be raised in a clean environment and should have lots of human interaction from a young age. Good food is vital for those first all-important weeks of growth. Don't be offended if you are subjected to a cleaning ritual before being allowed to see the puppies - one of a breeder's many fears is the risk of visitors bringing in infectious diseases before the puppies are old enough to be vaccinated.
What a Breeder Will Expect From You
So you've found a breeder, what will they expect from you?
Firstly your breeder will expect you to tell them what you are looking for...if you have a colour preference, or you definitely want a boy or a girl then you need to make this known from the very start. If you intend to think about breeding in the future or you would like to show your dog then these are also things that you need to mention from the start. Be aware that if you have very specific wants then you may be on the waiting list for longer than someone who has no preferences. It is also worth noting that what you think you want when you first meet the breed isn't always what you end up wanting when the puppies are born! Kiba is a classic example of this as - for my first puppy - I wanted a grey full masked boy with yellow eyes...and I ended up with a pure white!
Secondly if you have your name on multiple waiting lists is it common courtesy to let all of the breeders know that you intend to stay on multiple waiting lists and also let them know if you decide to purchase a puppy from someone else. Likewise if you decide that your circumstances aren't right or maybe this breed isn't for you after all, let the breeder know. They will not be offended and will likely thank you for letting them know.
Thirdly most breeders will expect you to meet them and their dogs in person before agreeing to put you on a waiting list (obviously this is not always a viable option when your chosen breeder lives overseas). This is not them trying to be awkward, it is so they can assess you as a potential owner and decide not only whether a puppy is right for you but whether you are right for their puppies. They will do this by watching how you interact with them and their dogs. Don't let this put you off! There is no 'test' you have to pass, just a genuine love for the dogs. Be honest with them, if there's something you're not sure about or something in your life that might prevent you from having a puppy let them know, they may have suggestions to help.
Lastly respect your breeder...if they decide that maybe you're not quite ready for a puppy just yet then respect that decision. Or if they feel that the puppy you've got your eye on really wouldn't suit your family or lifestyle then respect the fact that they spend 24 hours a day with their puppies and will likely know exactly which puppy will best fit into your life.