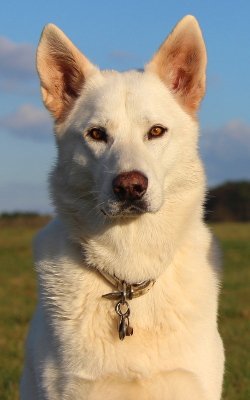 In loving memory of Kiba 12/09/2009 - 30/12/2020, my white shadow no more.
Kiba is the oldest member of the Toboetsuki pack. He was born on the 12th September 2009 to mummy Anya and daddy Squims at Honiahaka, he was the only white in his litter. From the minute he was born I knew he made for me and that he was special. He has been my soulmate from day one my shadow and constant companion since I brought him home at eight weeks old.
Kiba was named after a character in a Japanese animated series called 'Wolf's Rain'. In the series Kiba's true form is a white wolf with yellow eyes, our Kiba grew up to look just like his counterpart and shares quite a few temperamental traits too. In Japanese the word Kiba (Japanese kanji: 牙) literally translated means fang.
The film company behind HBO's 'Game of Thrones' asked Tracey of Honiahaka if Kiba could be used in the series to portray puppy Direwolf 'Ghost' in the first season. However after having a discussion we declined as we wanted to bring Kiba home at eight weeks to have the most possible time to bond with Kiba and socialise him as a puppy. This is Kiba's claim to fame!
Kiba is the 'top dog' of the Toboetsuki pack as well as being the oldest: he expects respect from the younger members of the pack and from any outside dogs that he meets. He is brilliant with puppies and very tolerant but can be a bit of a cheeky boy and will push his luck if he thinks he can get away with it! He can act like a grumpy old man sometimes and loves his home comforts. Kiba is a lazy boy most often found sleeping on his sofa next to me and is allergic to most kinds of strenuous activity!
Kiba suffers from separation anxiety, otherwise known as 'spoilt brat syndrome' this means that he cannot be left alone - even for short periods - without howling constantly and making himself sick. This is because he was never left as a puppy so he never learned to be away from us (neighbour complaints meant we had to stop the separation training). It has taken many years but he has gotten better and can now be left for just over an hour as long as he is with the pack and has a tasty treat to keep him occupied.
Kiba is my shadow and my soulmate, he is happiest when he's by my side and the feeling is mutual! He is my 'bomb-proof' dog, the one I can take anywhere and do anything with and not worry about how he will react. We regularly travel by train together, including the London Underground and Kiba wears his backpack, carries his own food for our weekend trips and is a wonderful ambassador - putting up with cuddles and attention even when he's exhausted after a long weekend of working as a meet-and-greet dog.
In May 2017 Kiba was diagnosed with Subcutaneous Hemangiosarcoma after we discovered a tiny lump on his chest. After surgery and more diagnostic tests to determine whether the cancer had spread, Kiba went through an intense course of chemotherapy with Doxorubicin in an attempt to kill off any remaining cancerous cells in his body. He responded well to treatment and although he has slowed down a little over the last 6 months we hope to have some precious time left to spend with our gorgeous boy.
In July 2020, Kiba was diagnosed with a degenerative neurological condition which caused him to slowly lose co-ordination in his back legs. He enjoyed his holiday to Norfolk to visit our good friend Lou and her boys, along with our pack, but over the months his legs got worse and he could only manage short walks up the road. On December 30th 2020 we said goodbye and my soulmate took part of my heart with him on his next journey. He has left a huge hole in our family and in our home, but we are blessed to have shared 11 years of adventures with him.