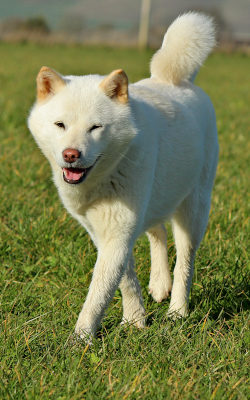 Kirin is one of the first of her breed to live in the UK...and she had quite a journey to get here! Born in France to mummy Katsura and daddy Satsuki, Kirin was the only girl in a litter of three. After months of persuading and discussing whether bringing another dog into the family was right, when Kirin was born Steve finally caved and said yes!
Kirin is named after an ancient Japanese mythical creature (Japanese kanji: 麒麟) who was seen as a good omen and thought to bring good luck and serenity to those who saw it. It is often depicted as a deer-like creature with dragon-like characteristics, and also bears resemblance to the western Unicorn in having a single backwards curving horn.
Kirin stayed with her breeder until she was 15 weeks old due to needing her rabies vaccination before she could travel overseas. On the 8th December, together with my good friend Lou, I embarked on an epic 29 hour 1,100 mile journey across England and France to bring Kirin home. It was definitely love at first sight - on my part for sure, Kirin was more interested in tearing around with her brothers making mischief - meeting the Hokkaido Ken at Kyuden Kitsune for the first time and bringing Kirin home was one of the best experiences of my life. Kirin was a little star through all of the travelling and we hardly heard a peep from her...everyone who met her through the journey fell in love.
Despite being smaller than the rest of our canine family, Kirin's larger-than-life personality more than makes up for her lack in stature! She is a very confident little girl who gets a little overexcited to meet new people. She is very vocal and her different barks and woos all have different meanings. She also loves her big sister Princess - who is determined to teach her as many bad habits as possible - and can often be found hanging from her neck.
Kirin definitely retains the hunting heritage of her breed and loves to chase birds around the fields and when she's following a scent or mousing in the long grass she is completely focussed on her task. She is a quick learner and will do almost anything for food, but when she's busy doing something then you're just going to have to wait until she's ready!
The Hokkaido Ken is a very new breed to us and the experience has proved quite different to bringing up Northern Inuit pups, with different challenges and behaviours. You couldn't help but adore this mischievous little puppy who always had the biggest smile on her face; loves the sound of her own voice; will stand up to the whole world and absolutely gives the best cuddles going - when she wants to!
Kirin has done great work as a breed ambassador here in the UK, attending events with Honiahaka Northern Inuits and the Association of Nihon Ken. She has travelled on the ferry, on the train and London Underground, and often gets stopped by random passersby. She handles strangers well, which is unusual for her breed, however she does like to talk to people whilst they're making a fuss of her.
Kirin was the mother to the first Hokkaido litter ever born in the UK, four beautiful puppies, born in 2019 and a singleton puppy born in 2022 who we kept (despite Steve saying there was no more room). We hope that she will give us one last litter in 2023 before being officially retired from breeding and living out the remainder of her life as the Queen of Couch Potato.
Kirin is Embark DNA profiled: click here!