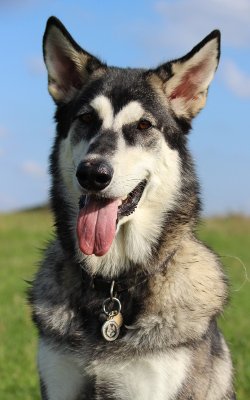 Princess was the fourth addition to the Toboetsuki pack and our very first girl! She was born on the 11th October 2012 to mummy Kizzy and daddy Spirit and is half sister to Teddy. Kizzy was a super mum and gave birth to a massive litter of twelve puppies - a Northern Inuit record at the time! There were five dark puppies born in this litter and seven timber/grey babies.
Despite never having liked the dark Northern Inuits I felt drawn to Princess from the minute the first pictures of Kizzy's litter went online. I had the same feeling looking at pictures of her that I had with Kiba the very first time. After a long heart-to-heart with Tracey of Honiahaka about whether the timing was right for us to be thinking about bringing another puppy home so soon after Teddy went missing, we decided to bring Princess home and deal with the fallout from people who didn't agree with our decision later.
Princess was my light through a very dark period of my life. Knowing that we were bringing her home gave me a reason to carry on and something to look forward to and wake up for every morning. She gave me hope and the strength to carry on in our search for our missing baby, Teddy. She continues to be a light of hope to us to this very day.
Princess' full name is Princess Ryoko (Japanese kanji: 魎呼) which in everyday terms would mean 'understanding child' or 'good child'. However our Princess Ryoko was named after a character in a Japanese animation series called Tenchi Muyo. In the series the character Ryoko is a Space Pirate and the kanji of her name means 'bringer of demons'! Princess actually fits our little girl better as she is a little spoilt and this is the name she responds to.
She is a special girl who loves attention and would live on your lap if you let her. However she is quite a shy girl and you really do have to work hard to gain her approval. Visitors will quite often find her hiding under the table or watching from afar until she has decided you're safe enough to approach. Once you've made her your friend you have a friend for life. She loves the company of other dogs, especially when we go on trips back to Honiahaka or to the shows where she enjoys playing with her girly friends and her sister Dream.
Now that she is fully grown, Princess is both taller, longer and heavier than the boys, she still hasn't learnt how to use this to her advantage yet and is regularly the subject of 'splat the puppy' games where the boys will all chase her and roll her around the floor. She has, however, learnt how to give them a good telling off when they let her up! She has no concept of personal space and if she decides she wants to be in one of the other dogs' spots then she will literally sit on top of them until they move out of her way!