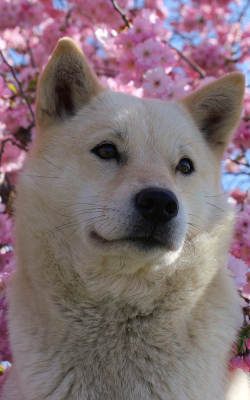 Satsuki (サツキ) is our very first homebred girl to be staying here at Toboetsuki and part of the first litter of Hokkaido Ken ever born in the UK. She was born on February 2019 to mummy Kirin and daddy Kuro after an epic trip to Finland when Kirin came into season. We had an anxious four week wait to find out whether Kirin was pregnant, and finally after 9 weeks, Kirin gave birth to four healthy puppies! Satsuki was the last born out of the four puppies, and slipped out with the least amount of fuss, after the more dramatic arrival of her brother.
Satsuki was born quite a dark red with a black muzzle, but as the weeks progress she went lighter and lighter - at 2 years old we have noticed that when she grows in a new coat it seems to be darker, then as it ages and gets ready to moult it gets lighter and lighter!
Though she started off as the shyest and most reserved puppy of the litter, Satsuki gained in confidence very quickly. As she has grown up, she has come to believe that everyone and everything is going to be her new best friend! She is fearless, confident and excitable and takes everything in her stride. She loves running around with all of the bigger dogs and is also an excellent swimmer when out at the retreat. At almost 6 months old, Satsuki is still able to run off-leash on certain paths on our walks, though she is beginning to take more of an interest in birds and tracking scents.
Satsuki's name and pedigree name are taken from the Studio Ghibli film 'My Neighbour Totoro'.
Satsuki started her 'career' as a meet-and-greet ambassador for the Hokkaido breed at just 11 weeks old. Alongside her new Wolfalike friends at Honiahaka, she loves all of the attention and fuss she gets from adults and children alike. We hope that she will keep this confident and outgoing personality and in the future we will assess her to see if she might be suitable to train as a therapy dog - something I have been wanting to try for quite a while. But for now, she enjoys chewing on people's fingers just a little too much!
We are very proud to say that Satsuki is CEA clear (an inherited eye disease prevalent in the Hokkaido Ken). We hope that she will pass all of her health tests with flying colours (her health testing will be completed summer 2020) and will be a great asset to the future of the Hokkaido in the UK. Of course she is our baby girl first and foremost and will be loved and cherished forever as part of our family no matter what.
Now fully mature at four years old, Satsuki has retained her confident personality and mostly easygoing nature, despite the difficulties of socialisation during the pandemic. She started attending local ring craft classes in December 2019, not just to try our hand at a show career in the future, but also to make sure that she is used to being handled by strangers; mostly she just thinks it's a great place to go and play with new friends...and I regret ever teaching her to sit!
Satsuki had her first litter in January 2023, known as the Okami Litter. To follow their progress, please head over to our Facebook page!
Satsuki is Embark DNA tested: click here! Please note that Embark cannot currently test for the black and tan gene found in Hokkaido, therefore her traits page does not reflect her as a carrier for black and tan.