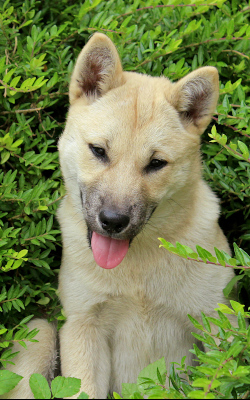 Tsume - joined the pack on the 9th July 2021.
Tsume is our second imported Hokkaido Ken, journeying to the UK all the way from the Czech Republic. Tsume was born at kennel Bezdrevská perla to mummy Aja and daddy Eiji. We are very thankful to Tsume's breeder for allowing him to travel all the way to the UK to become part of our Hokkaido family and hope that he will be a great addition to the Hokkaido gene pool in the future.
Tsume was named after the Wolf's Rain character (Japanese kanji: ツメ) and in tribute to his big 'brother', Kiba, who he will never get to meet. In literal translation, Tsume means 'claw'.
So far Tsume has shown himself to be a happy and confident puppy! He very quickly gained acceptance from the rest of the pack (maybe a little begrudgingly on Kirin's part) and will happily do zoomies around the garden while Princess tries to splat him and Satsuki tells him off. He's a bit of a cheeky chap and we are sure more of that naughty personality will emerge over time!
Tsume will we making his debut as a meet-and-greet dog and Breed Ambassador at our summer shows as part of the Association of Nihon Ken. We will update with his future progress!
(Some photos from Tsume's breeder Marie Štumbaerová - Bezdrevská perla)