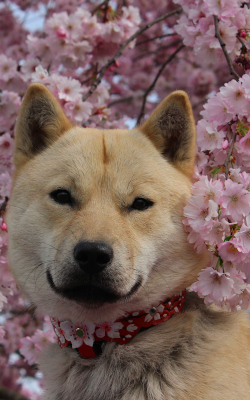 Tsume - joined the pack on the 9th July 2021.
Tsume is our second imported Hokkaido Ken, journeying to the UK all the way from the Czech Republic. Tsume was born at kennel Bezdrevská perla to mummy Aja and daddy Eiji. We are very thankful to Tsume's breeder for allowing him to travel all the way to the UK to become part of our Hokkaido family and hope that he will be a great addition to the Hokkaido gene pool in the future.
Tsume was named after the Wolf's Rain character (Japanese kanji: ツメ) and in tribute to his big 'brother', Kiba, who he will never get to meet. In literal translation, Tsume means 'claw'.
Tsume is a boisterous and confident dog who often uses his size to his advantage when playing with the smaller girls (although Princess is more than happy to remind him of his manners). He exhibits the typical Hokkaido wariness of strangers and while he is happy to approach and say hello to some people, he very much prefers to be the one to take the first step and initiate contact. He is a handsome lad and a head-turner and his cheeky personality has gathered him a few fans when he's out and about.
We are very pleased to have had the opportunity to import this beautiful boy as he is also DNA tested and is CEA clear. He has had his hips and elbows x-rayed and we are now waiting anxiously for the results in the hope that he can be used as part of the breeding program here in the UK.
Tsume has already made leaps and bounds after making his debut as a meet-and-greet dog and Breed Ambassador in 2021 and will continue to attend our summer shows as part of the Association of Nihon Ken. We will update with his future progress!
(Some photos from Tsume's breeder Marie Štumbaerová - Bezdrevská perla)