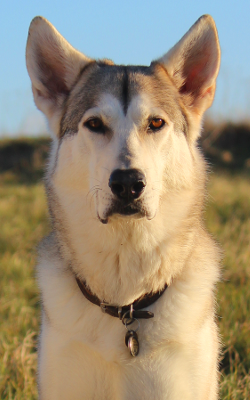 Rest in peace, Yoyo (15/04/2011 - 02/10/2023). You left us with the biggest yawn ever - I know you just wanted to make us laugh one last time.
Yoyo is most often affectionately referred to as our 'Naughty Middle Child'. He is the second oldest of the Toboetsuki pack and was born on the 15th April 2011 to mummy Koko and daddy Bear. He was the only red in his litter, his brother Storm is black and white and his sister Asti is ink marked.
We had an anxious 24 hour wait when Yoyo was born to find out whether he was coming home with us or not: Koko had been scanned with lots of puppies about four weeks prior to giving birth but when the litter was born she only gave birth to three beautiful babies. Another breeder had been waiting on a male but due to the fact that Yoyo's sister was ink marked (a colour fault according to the Northern Inuit breed standard) it was decided that Yoyo wouldn't go to a breeding home. So 24 hours later it was confirmed that Yoyo was coming to live with us!
Yoyo's true name is Yōkai (Japanese kanji: 妖怪) which at its most basic form is the Japanese word for 'demon', however, for the first 10 months of his life, Yoyo was convinced his name was 'puppy'!
If you hadn't already realised Yoyo is a bit of a doughnut and is slightly lacking in the brains department, earning him the nickname of 'The Doughnut Dog', however he makes up for his lack of brains with his stunning good looks and cheeky character. He is a very affectionate boy, taking after both his mummy and his daddy who will both sit on your foot and refuse to move until you've given them adequate cuddles! You can't help but love Yoyo when he sits next to you, gives you his paw and stares at you with big brown eyes pleading for belly rubs.
Yoyo was also a bit of a naughty boy in his youth, and just when you thought he was maturing and starting to behave himself he would proceed to be REALLY naughty (usually resulting in him legging it across the field because he just HAD to go and see that dog all the way over there)! He was always a bit of an eternal puppy and training was always an ongoing process - this is, after all, the dog who took 10 months to learn his own name and how to give paw.
Yoyo and Kiba are inseparable and the best of friends, they play hard and love wrestling with each other. Yoyo is the fastest but Kiba knows how to use his weight to his advantage to splat Yoyo on the floor, it's all in good fun. Yoyo loves other dogs but sometimes forgets how big he is and has a tendency to knock them flat on the ground without meaning to.
At two years old, Yoyo started suffering from seizures and was diagnosed with Idiopathic Epilepsy (this involved blood tests, urine test an MRI scan and a spinal tap). It took three years but we have now thankfully found a combination of medications that seem to be working and Yoyo has been seizure-free since April 2016. Sadly, whilst the medication has stopped his seizures they are not without side-effects of their own, and the happy-go-lucky delinquent has become rather more spaced-out and uncoordinated, but there is still a spark of his old self that emerges from time-to-time.